After months of hard work and dedication, we are excited to introduce you to our brand new websites. Our goal with the new website and store is to provide our valued customers and trusted business partners with a user-friendly browsing experience. We've made it easier to order the products and services you need. We hope you enjoy our new streamlined design that is more responsive, searchable, and easy to navigate. The websites are also packed with new features and information as well as improved ways to contact us.
Mobile Optimized — We Now Work on All Your Devices!
Our new website is fully responsive with mobile devices, making it easy to navigate on a wide range of web browsers and portable devices.
You
can browse or order products whether you're at your desk or on the move…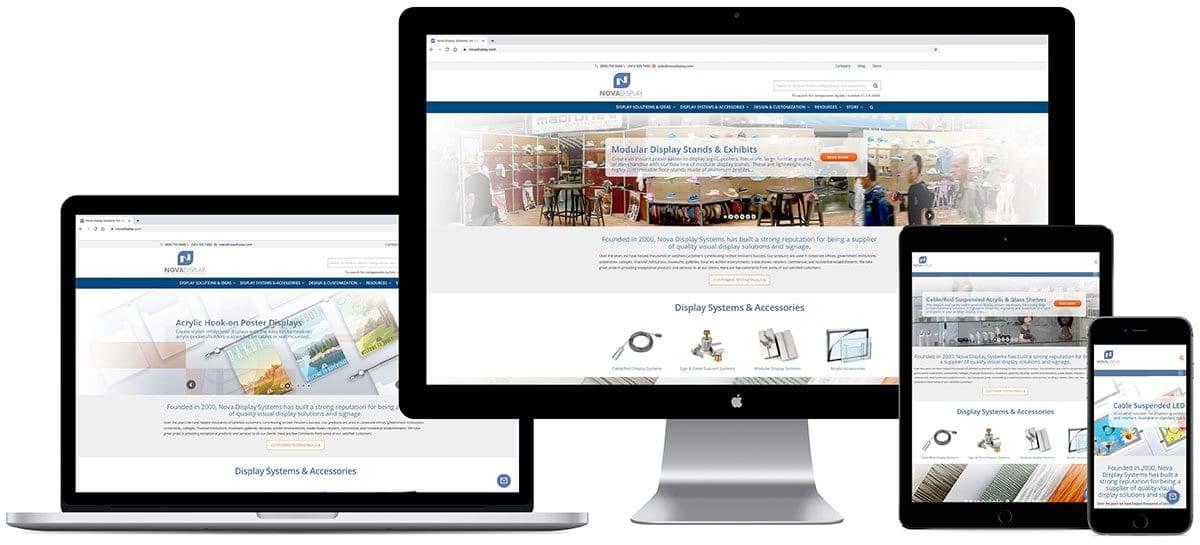 Comprehensive Navigation — Easily Find What You Need!
Our new website incorporates an intuitive and consistent site-wide navigation system with improved menu functionality that directs you to the information most relevant to you. The new menu has been refined for an easier product or category search and to provide you with a better shopping experience.
Improved Search — We Now Have a Fully Integrated Search!
Our new website has an improved on-site search to make it easier to find content such as product details, specifications, instructions, display kits, and individual components by SKU numbers.
More Efficient Shopping — Find the Product You're Looking for Faster!
All our display products, kits and individual components are neatly categorized on our home page and store for quick and easy access. Shop for product by category and compatibility, filter by type, size, finish, load limits, and mounting options. You can also manage your own account, check on past orders, re-order, and create wish-lists.
Higher Online Security — We Value Your Privacy and Security!
We have taken every measure to ensure that online shopping at our web store is as secure as possible. We use Secure Socket Layering (SSL), the industry standard encryption technology that ensures safe internet transmission of all your personal information.
Live Chat — We are Here When You Need Us!
Now you can connect and chat with our team instantly. Whether you are looking for the correct product, need help navigating our web pages, or have questions and need immediate answers use the online chat to communicate with us. If it is after hours, simply fill out the form and we will get back to you the next day.
More Relevant Content — We Have Renewed Our Product Information!
We have introduced a range of new content to the website, including
Product Information
and
Support Pages
that feature product catalogs, specifications, technical data sheets, installation instructions, and submission guidelines. In addition, our
Photo Gallery
is host to a wide collection of product images, conceptual designs, and project developments.
New Services — Specialized Fabrication and Customization!
We now specialize in a variety of services such as design, printing, sign making, and custom acrylic fabrication. Our in-house production team has the ability to fabricate a wide variety of acrylic/plastic components and accessories for use in all our display needs.
Product Bundles — Save Big on Bulk Items!
Choose from a variety of bundled items, such as display fittings, accessories, or ready-to-use sign kits to save time and money.
Brand New Blog — Announcements and Product Updates!
As a new feature we have our new blog, a space where we will share our ongoing projects, product reviews, client success stories, industry tips, trends, and other helpful information. Going forward, we will continue to communicate regularly through our blogs and provide new articles and notifications.
E-mail Subscription — Take Advantage of Our Best Offers!
Subscribe to our newsletter email to receive updates on new products, special offers, and promotions. You will receive email order confirmations, updates, requests for reviews, follow ups, or other email messages with important information about our products and services.
Social Media — Follow Us on Social Networks!
Our new site contains integrated social media buttons for Blog, Pinterest, Instagram, Facebook, Linkedin, and YouTube to foster improved communication with our valued customers. We will be constantly updating our content with helpful information, articles, blogs, company announcements and new products.
Check for these and other features and tools on our new website here: novadisplay.com / novadisplaysystems.com
We hope that you enjoy the fresh look and feel of our updated website and find that our products and serves as a valuable resource for you.
We value the feedback of our customers and business partners. If you have any suggestions to improve any areas of our website, please drop us an e-mail or fill out the enquiries form here to give us your feedback.