Stainless Steel Cable Display System
Our new 1.5mm Stainless Steel Cable Display System is an attractive and highly functional suspension system that offers sheer strength and compatibility with most of our display products.
New, special designed horizontal hanging rails are fitted onto vertical cables or rods to create a durable suspension system — strong enough to support graphic banners, clothes or garments.
Durable, high quality stainless steel standoff supports — ideal for supporting signs, graphic panels and acrylic poster frames. Each set includes a standoff spacer / barrel, screw cap and wall anchor.
Rimless LED Light Pockets with cable grippers are the newest addition to our poster and graphic display solutions for windows and office interiors. They are sleek, incredibly bright, and easy to adjust.
We use the best known branded acrylic and plastic products throughout fabrication. Stock materials are available in clear, color or frost as standard, other specialty finishes are available upon request.
Our multi-pocket LED backlit frames are ideal where display space is at a premium. They are specially designed to display multiple graphic inserts and save by using less cable hardware and power supplies.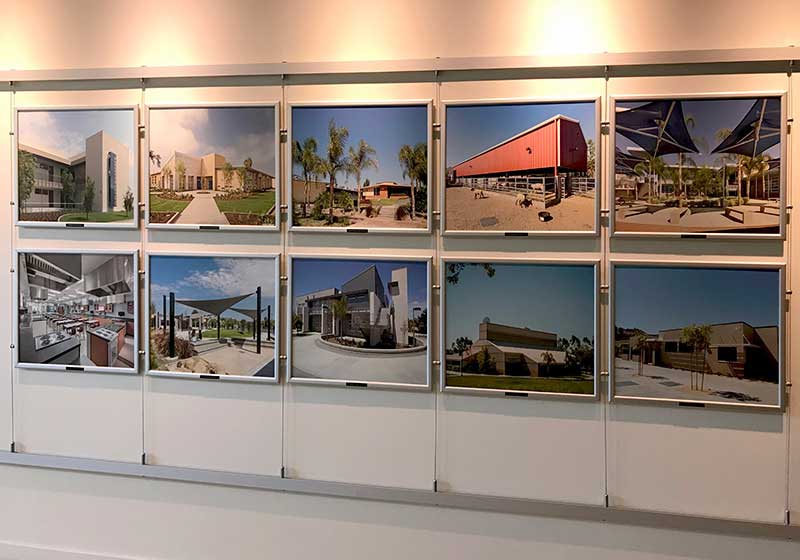 Suspended Aluminum Frames
We supply cable/rod fittings and standard and custom aluminum frames in various sizes for suspending onto walls or tracks. The frames are lightweight with top loaded capability and are easy to use.
Promote your brand by adding a logo to your display — now we can customize our cable suspended LED Light Pockets to include your company logo laser etched on top of the frame.
Linear Rail Display Systems
Coming Soon! A robust and specialized graphic frame system. The linear rail display allows inserting of your graphic panels in an elegant aluminum frame mounted to wall in horizontal or vertical fashion.
Environmental & Quality Commitment
We recognize the necessity for responsible environmental management and conservation of our resources. We assess our products starting from the planning and design stages to ensure that they are versatile and reusable, durable and made of high-quality or recyclable materials that have a low-impact on the environment.