Rail/Track Mounted Cable Display System / Overview
The Tensioned Cable Track System is a simple yet effective display system that allows suspension of graphic boards and photographs on cables at any height between floor and ceiling. Cables are tightened between two channels mounted onto the wall, or ceiling and floor. Combining the flexibility of cable fittings and channels the track system delivers versatility, durability and a sleek look. Ideal for suspending framed art, photos, graphic boards, posters, leaflets, or light weight dimensional objects. It allows for easy and speedy updates of display materials — making your message immediate and impressive. Fittings are made of solid brass for durability and supplied in a top quality finish. Channels are made of aluminum with a standard clear satin anodized finish.
The system is used for creating a wide range of applications:
Architectural Paneling – suspended decorative or light-diffusing paneling.
Art/Picture Hanging – suspended artwork on aluminum rails ceiling or wall mounted.
Literature Displays – suspended literature dispensers and literature sloping shelves for displaying catalogs, magazines, brochures, books, newspapers, post cards, etc.
Non-lit Window Displays – suspended poster displays, easy access poster frames and small and large format printed graphics and banners.
Signage and Logo Panels – suspended and wall-mounted custom signage, logo panels, decorative screens, posters, vinyl banners, large format graphics, etc.
Partitions and Dividers – suspended light-weight decorative fiberglass or tempered glass panels and screens.
Benefits
Easy to Install

Limitless Combinations

Longevity and Durability

Minimalist Design

Modularity

Quality and Strength

Re-configurable

Streamlined

Versatility
Applications
Art Presentations

Banner Displays

Decorative Screens

Donor Recognition Displays

Graphic Panels

Literature Displays

Partitions and Dividers

Poster/Information Display

Wall Displays & Signage
Institutions
Art Galleries and Museums

Corporate Offices and Receptions

Hairdresser and Beauty Salons

Hotel Lobbies

Libraries and Schools

Malls and Retail Outlets

Real Estate Offices

Showrooms and Exhibitions

University and College Campuses
Display Solutions & Ideas
– a versatile solution for displaying posters and graphics, suspended on cables fitted between ceiling-to-floor or wall tracks.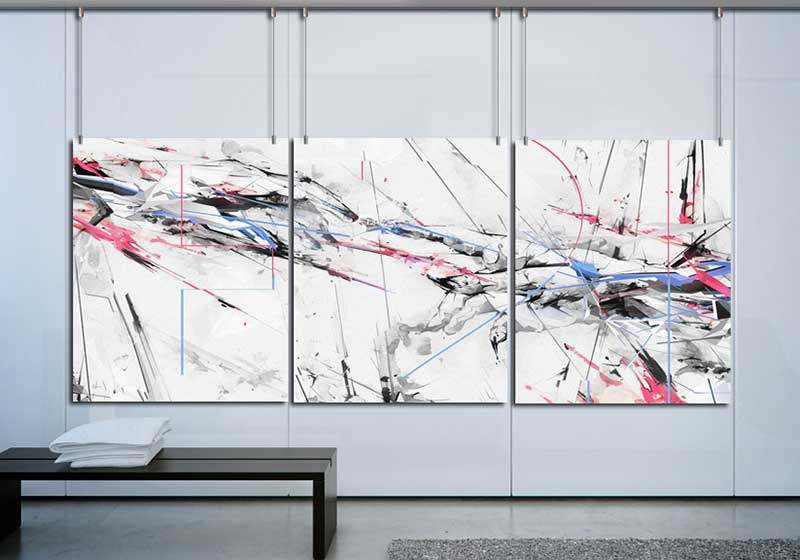 – a simple solution for displaying framed artworks and photographs that require items to be easily moved or replaced.
– cable/rod suspended screens and dividers. Individual panels can be fully customized using color, frosted or textured acrylic.