Rail/Track Mounted Cable Display System / Components
Cable Suspension Kits, Track & Mounting Accessories
The Tension Cable Track System comes with 1.5mm diameter suspension cable kits – fitted with spring tensioners and quick-fit toggles for easy attachment to top/bottom channels. Use for standard ceiling-to-floor or wall-to-wall suspended applications. Tracks provide additional flexibility to your cable displays making changes and regular updates simple and cost-effective. Cable suspension kits are provided with 4 meter (13′ 1-1/2″) long cables that can be adjusted, shortened in place during installation. Kits with longer cables or additional crimped cables up to 8 meter (26′ 4″) or more can be supplied at your request.
*Tracks are available in 4, 6, or 8 feet length. An Oversize Handling & Freight Surcharge/Fee per order or shipment will be applied on all items 84" or longer.
Use the CQQ Cable – Quick-Fit Cable Suspension Kit for mounting displays between top/ceiling and bottom/floor tracks. Supplied with two quick-fit toggles and a spring tensioner fo easy inside-channel attachment. Quick-fit toggles enables quick repositioning or removal. 
Panel & Specialty Supports
Supplied in a range of single and double sided clamp supports for panels, as well as picture hooks and supports for hanging rails and rods. Available in standard sizes to support 1/4″, 3/8″ and 1/2″ thick panels.
Acrylic & Glass Accessories
Everything you need to display posters, photos, brochures, catalogs, magazines, collectibles, and more. Available in a wide range of styles and sizes to suit any display requirements. Choose from standard pre-fabricated items or request custom fabrication to meet your specific display needs.
Display Solutions & Ideas
– a versatile solution for displaying posters and graphics, suspended on cables fitted between ceiling-to-floor or wall tracks.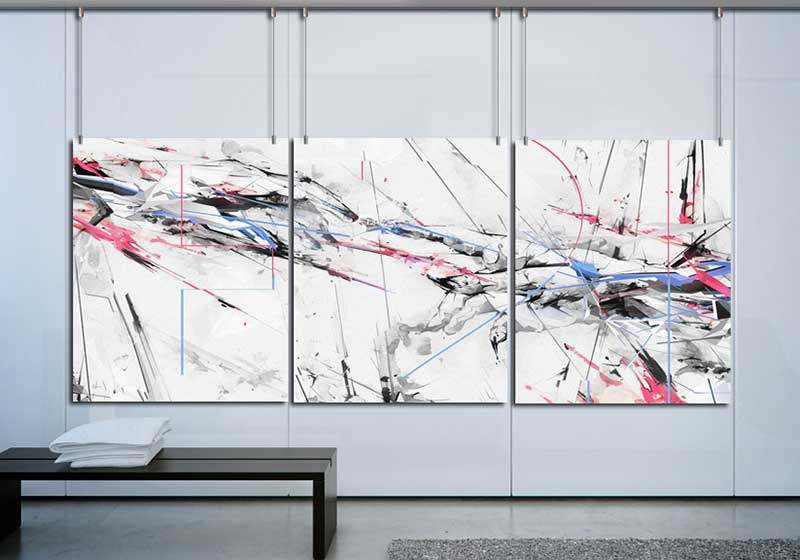 – a simple solution for displaying framed artworks and photographs that require items to be easily moved or replaced.
– cable/rod suspended screens and dividers. Individual panels can be fully customized using color, frosted or textured acrylic.