Art/Picture Hanging System / Components
Cable/Rod Suspension Kits, Tracks & Mounting Accessories
The Art/Picture Hanging System uses our standard 1.5mm cables and 6mm rods fitted with quick-fit toggles. Cables/rods are freely suspended from the ceiling or wall mounted channel/tracks. The quick-fit toggles provides an easy fit into channel opening without the use of any tools. Cable suspension kits are provided with 2 meter (6′ 6-3/4″) and 4 meter (13′ 1-1/2″) long cables that can be adjusted, shortened in place during installation. Rod suspensions come in 1.5m (4′ 11-1/16″) and 0.5m (1′ 7-11/16″) length. Rods can also be adjusted – joined together for longer lengths or shortened in place during installation.
*Tracks are available in 4, 6, or 8 feet lenght. An Oversize Handling & Freight Surcharge/Fee per order or shipment will be applied on all items 84" or longer.
Cable & Rod Supports
Supplied in a range of fittings for suspending various items such as framed art, graphic boards, laminated or sandwiched posters, and photos, or lightweight dimensional objects.
Display Solutions & Ideas
– a versatile solution for displaying posters and graphics, suspended on cables fitted between ceiling-to-floor or wall tracks.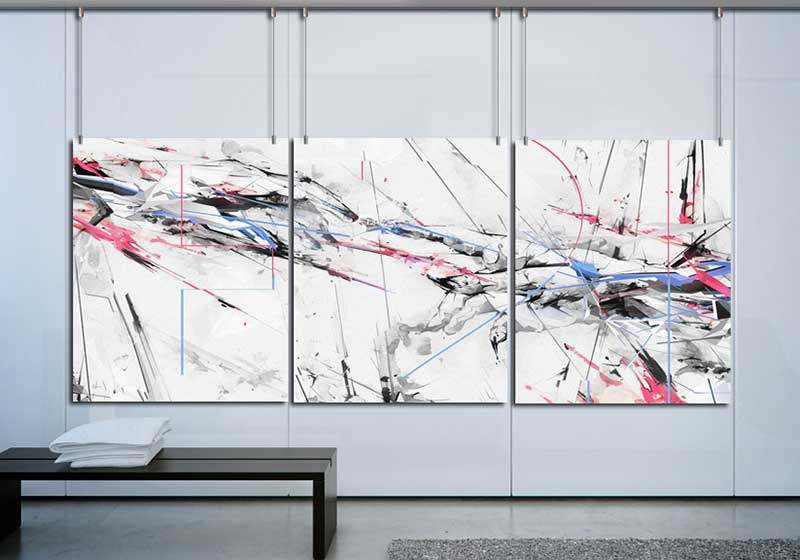 – a simple solution for displaying framed artworks and photographs that require items to be easily moved or replaced.
– cable/rod suspended screens and dividers. Individual panels can be fully customized using color, frosted or textured acrylic.