Rail/Track Display Systems
For detailed product information, component and accessory compatibility lists, weight-bearing limitations, specifications and installation guidelines on our Rail/Track Display Systems follow the links on this page. To purchase standard/stock components and accessories for your display project, you may start shopping by clicking on the "Order Now" button. If you have special requests or require help with a custom design or fabrication, please contact us.
Rail/Track Tension Cable Display System allows suspension of framed art, graphic boards, posters, photographs, or even dimensional art objects on cables at any height between floor and ceiling. Cables are tightened between two channels mounted onto the wall, or ceiling and floor. With combined versatility of the cable fittings and rails, the system delivers flexibility, durability and a clean unexposed look.
This is an elegant and stylish hanging system that consist of a horizontal top rail, either wall or ceiling mounted, and a series of vertical cable/rod hangers with adjustable fittings to support framed artwork, photos and graphics. Cables/rods are supplied with quick fit toggles that fit easily into channel opening without the use of tools. Ideal for displays that are changed frequently, giving access for window/wall cleaning and changing displays without any damage to walls.

Easy-Glide & Spider Tracks provide a simple and inexpensive display hanging solution for grid and non-grid ceilings. The tracks are ideal for mounting displays from grid, plaster ceilings or windows. Installation is simple and flexible enough to accommodate multiple design configurations and unique placement. Use multiple tracks and adjustable cables to create an elegant layered look. Tracks are available in clear anodized and white powder-coated aluminum.
Linear Rail Display System
Coming Soon! A robust and specialized graphic frame system. The linear rail display allows inserting of your graphic panels in a horizontal or vertical alignment, mounting them on the wall into an elegant tubular aluminum frame. They can hold graphics and photographs laminated on a single sheet or sandwiched in between two sheets of acrylic. Inline connectors can join the rails into a continuous display, allowing them to follow seamlessly across the walls.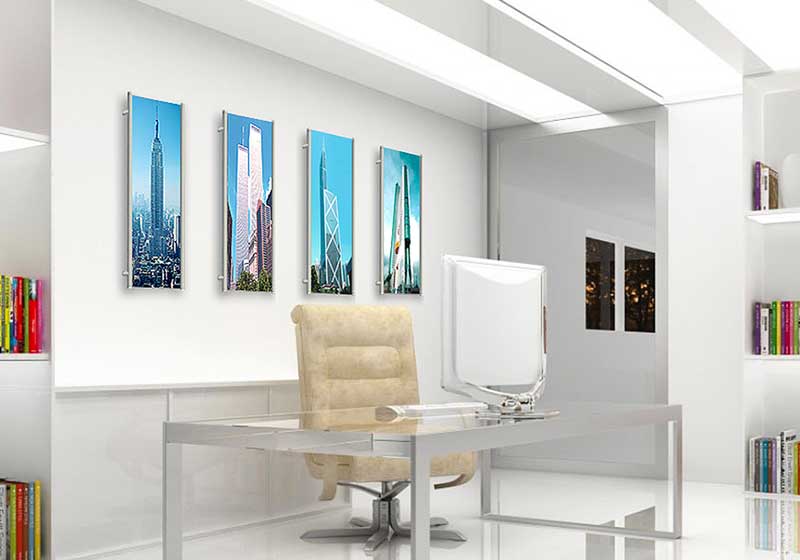 Project Images & Design Concepts
Browse our database for recent project photos, design ideas, display concepts and visualizations. These are great and valuable resources to help you with your selection of the best suitable display systems for your own project and discover previous examples of projects to help you in developing your own unique display concept.