Display Systems & Accessories
We offer a unique line of highly versatile and practical display systems such as cable/rod suspension displays, linear rail and track hanging displays, modular displays, sign and panel supports, and much more. All these display systems combined offer a wealth of design opportunities. They all have a simple and elegant design based on the minimalist approach and modularity that allows for quick and easy installations. The displays can be easily customized or re-configured to hold various format posters, prints, leaflet dispensers, acrylic sandwich frames, logo panels, signage, or shelves.
Cable Displays are an innovative suspension system designed to create stylish interior displays by incorporating posters, signage, leaflets, shelving, showcases, or low-voltage lighting. Extensive range of fittings ensure complete design flexibility.
Rod Displays are a robust and practical display support system, beautifully engineered and finished. It has a high braking strength and is capable of supporting heavy loads. It can be used to design numerous suspended displays applications and signage.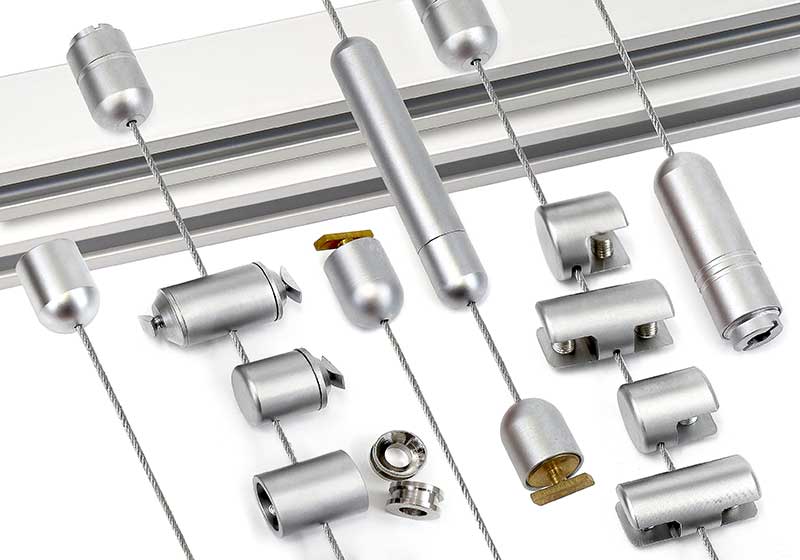 Rail/Track Displays are an elegant and stylish hanging system that consist of horizontal rails mounted to ceiling/floor or wall. Ideal for supporting displays that require regular change, moving them along the channel or easily removed, such as artwork, photos.
Sign/Panel Supports are a simple and practical concept that offers an infinite variety of mounting options. Uses quality hardware components available in numerous finishes. Ideal for mounting of architectural signage, directories, display panels, etc.
Modular Displays are a tool free display assembly system, engineered around a wide variety of aluminum extrusions with interlocking capabilities. Great for modular floor-stands, showcases, cabinets, furniture, kiosks, counters, and trade-show booths.
Everything you need to display posters, photos, brochures, catalogs, magazines, collectibles, and more. Available in a wide range of styles and sizes to suit any display requirements. Use with cables, rods, sign supports, rail/track, or modular system.
Project Images & Design Concepts
Browse our database for recent project photos, design ideas, display concepts and visualizations. These are great and valuable resources to help you with selecting the best suitable display systems for your own project and discover previous examples of projects to help you develop your own unique display concept.