Wall Mounted & Projected Signage / Overview
Using our professional sign mounting system creates clean and practical way finding signs that will efficiently direct people in a busy place. By utilizing and combining quality fittings, various fixing components, and premium substrates we can create high impact signs for almost any environment. Permanent text and graphics are applied to panels with vinyl lettering, routing, laser etching or direct printing. Signs can be suspended or mounted onto walls using cables, rods, rails, wall mounts or projecting standoffs. Your options are limitless — choose a standard design, modify it to meet your own needs, or simply start from scratch.
Attractive, modern appearance. Ideal for directional and informational signage.
Mounted on wall or suspended from ceiling using cable or rod suspension systems.
Simple assembly, lightweight and reusable.
Has an upscale look and can be re-configured or easily customized.
Sign blanks and name plates are available in various shapes and finishes and can be customizable to your needs with no minimum requirement
Customize your own wall mounted sign by adding multi-layered color and frosted panels, direct printed graphics, dimensional letters, and engraved logos. We provide consultation and design services and will assist you in creating your unique configuration to meet your specific needs.
We offer photographic quality printing for posters, graphics and signage at very competitive prices. Printing is available on a variety of substrates such as photo paper, polyester films, back-lit films, transparencies, vinyl, label or plastic stock.
– cable suspended poster information displays for walls and windows. Provide a quick and easy way to change information.
– designed for displaying posters, graphic prints, or photos by "sandwiching" them between two pieces of acrylic or glass.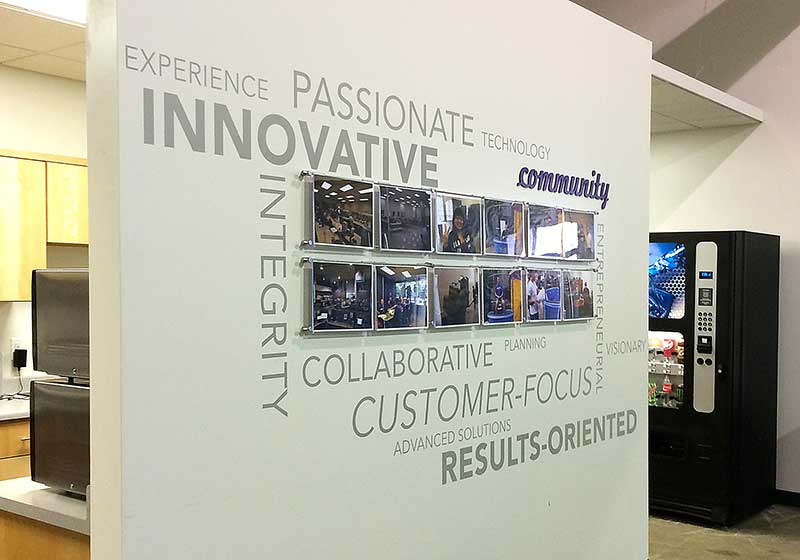 – create stylish, versatile interior wall displays using special designed acrylic pockets that hook onto horizontal rods.
– a modern space dividing solution for creating privacy wherever needed, it can be floor-standing or span from floor to ceiling.
– create an instant floor-standing presentation to display signs, posters, literature, large format graphics, or merchandise.
– quality, pre-fabricated or custom made aluminum modular display stands for trade shows and permanent exhibits.