Signage & Office Directories
Using our professional cable/rod support systems we create distinctive overhead, wall-to-wall, or ceiling-to-floor suspended signage. These simple and elegant systems consist of many components, engineered and machined to perfection and ideally suited for supporting acrylic signs of various sizes, shapes and finishes.
We design and fabricate office directory signs, floor plans, messaging boards, window displays, and other specialty signs that are easy to install and update. We offer both pre-fabricated or customized signage, made to your exact specifications. We use cable/rod suspension systems to support the individual panels and larger logo panels or graphic boards.
Using our professional sign mounting system we create clean and practical way finding signs that will efficiently direct people in a busy place. By utilizing and combining quality fittings, various fixing components, and premium substrates we can create high impact signs for almost any environment. Permanent text and graphics are applied to panels with vinyl lettering, routing, laser etching or direct printing.
We supply dimensional lettering and logos in a variety of materials such as acrylic, aluminum, brass, copper, bronze, stainless steel, and other popular materials with a variety of high quality surface finishes to compliment your existing display. They can be manufactured in various sizes, depths, finishes and colors, and are perfect for a wide variety of uses. Please send us your specifications and graphic files for pricing.
We fabricate directional and identification signs, directory and messaging boards, donor recognition displays and plaques, logo panels, and other specialty signage. Select from free-standing, wall-mounted, projecting or cable/rod suspended. We provide personalized direct printing, high-performance vinyl applications, etching, and laser engraving on a variety of materials including clear, frosted, color or textured acrylic and plastic stock.
– cable suspended poster information displays for walls and windows. Provide a quick and easy way to change information.
– designed for displaying posters, graphic prints, or photos by "sandwiching" them between two pieces of acrylic or glass.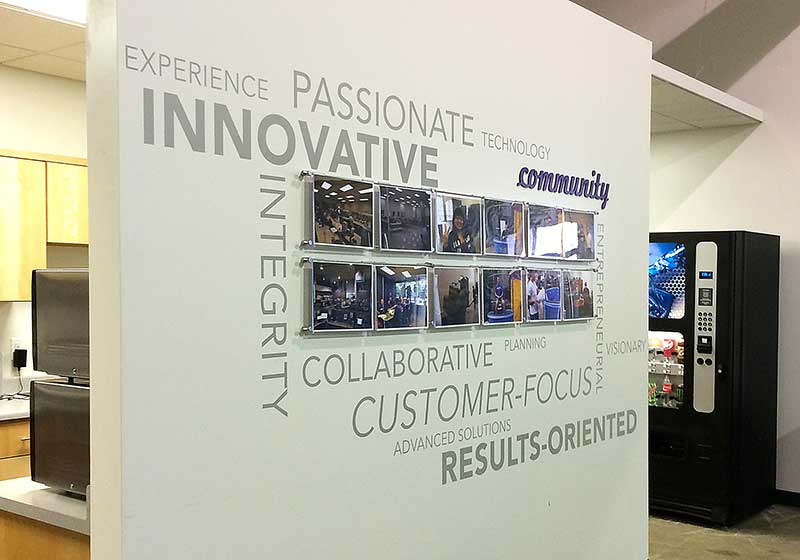 – create stylish, versatile interior wall displays using special designed acrylic pockets that hook onto horizontal rods.
– a modern space dividing solution for creating privacy wherever needed, it can be floor-standing or span from floor to ceiling.
– create an instant floor-standing presentation to display signs, posters, literature, large format graphics, or merchandise.
– quality, pre-fabricated or custom made aluminum modular display stands for trade shows and permanent exhibits.