Display Stands & Exhibits
Create an instant presentation to display signs, posters, literature, large format graphics, or merchandise with our new line of modular display stands. These are lightweight and highly customizable floor-stands made of aluminum profiles. Acrylic poster holders, leaflets, graphic panels, signage and shelves can be affixed onto suspended cables or aluminum framing and positioned at any height to create single or double sided displays.
We design and fabricate custom modular trade show displays and exhibit booths. These are fully modular, portable and customizable display stands that can be assembled in minutes. Graphics, decorative panels and shelves are held securely within the vertical and horizontal profiles. All horizontal profiles are equipped with pre-installed connectors that lock into the uprights creating a durable frame system. Send us your specifications, sketches, ideas, and we will customize an existing design concept or create something entirely new for you.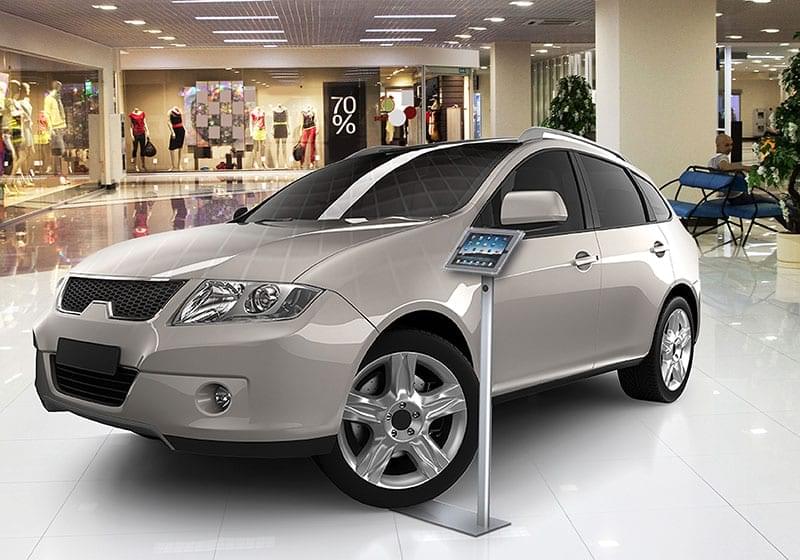 iPad & Tablet Display Stands
Attractive, durable and secure floor stand displays designed to hold iPads and tablets. They are available in several configurations, with the ability to incorporate graphics and various format tablets that can tilt and swivel for maximum viewing versatility. The stands are sturdy, easy-to-assemble and transport — an ideal portable display solution for business events, retail environments, and trade-shows.
Modular SEG Fabric Stands
We use a variety of slim and sturdy aluminum profiles to customize and build free-standing displays, large format wall graphic frames, backdrops and exhibit walls for silicone edge graphics. SEG are high resolution dye sublimated fabric graphics with a thin silicone perimeter that inserts into the groove of the aluminum frame. Dye-sub printing on fabric offers a richness and intensity of both color & texture. The quality and interlocking capabilities of extrusions and accessories ensure versatility and reusability of displays.
We provide countertop display stands and sign holders made of acrylic or aluminum and supplied in a wide range of sizes and finishes. They have an elegant and contemporary design and are ideal for product advertisement, product identification, promotional messages, and retail signage.
– cable suspended poster information displays for walls and windows. Provide a quick and easy way to change information.
– a versatile solution for displaying posters and graphics, suspended on cables fitted between ceiling-to-floor or wall tracks.
– overhead directional signs, directories, facility maps, logo panels, and other specialty signs suspended on cable/rod system.
– cable/rod suspended or wall mounted displays for brochures, catalogs, magazines and other promotional materials.
– ideal for displaying collectibles, merchandise and promotional products in windows, inside glass cabinets, or interiors.
– prefabricated or custom fabricated display showcases and cubes made of acrylic or wood for use with cable/rod suspension.