Maps & Charts
We offer quality large format digital output for wall maps, graphics, and charts. Various substrate materials can be used depending on the budget and required longevity of the printed piece. Most common print media for such projects are photo-base paper, polyester film, self adhesive vinyl and specialized wall paper. These enlarged maps and charts can be laminated onto acrylic panels then mounted to walls or suspended from cable/rod display systems. Larger format graphics showing maps or images of the city can be printed on wallpaper substrates and adhered to walls.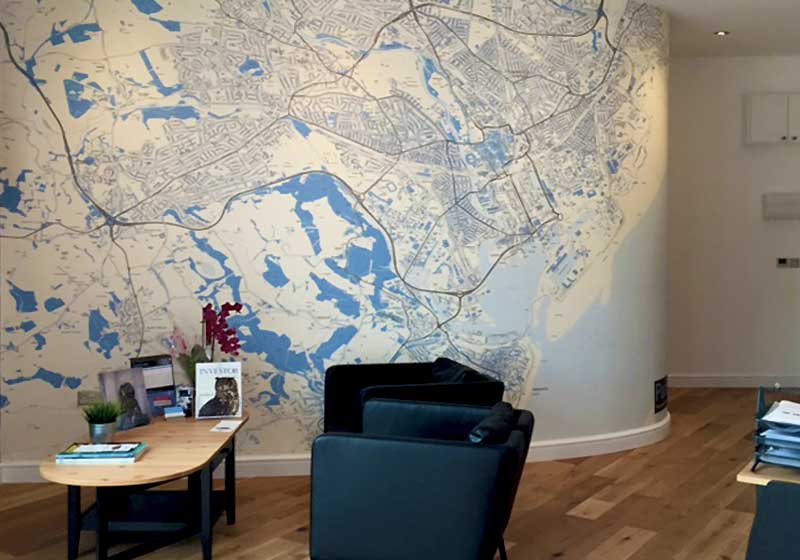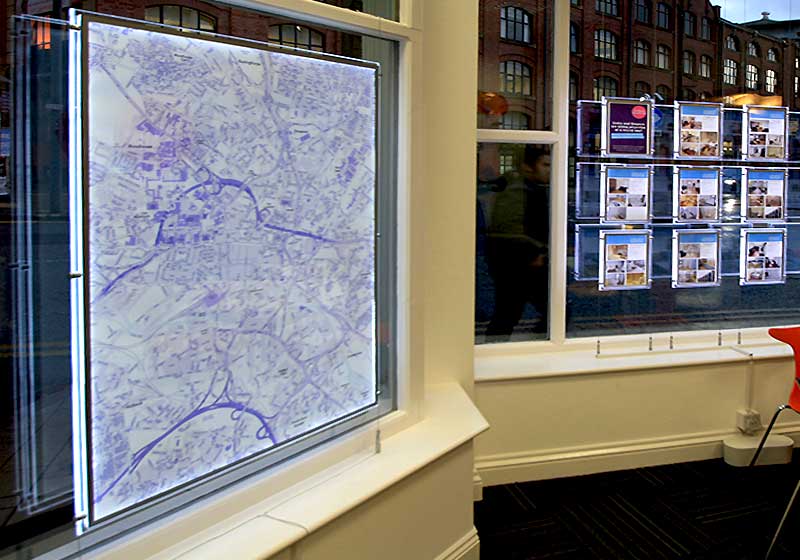 We offer specially treated photo-base print paper and polyester films in a few thicknesses and finishes. This ink-jet media provides excellent opacity, color contrast, and has anti-static qualities. Ideal solution for use in a variety of indoor printed graphic applications such as posters, display graphics, trade show graphics, and point-of-purchase displays.
Specially treated ink-jet printable wall-covering vinyl media is available in various thicknesses, textures and finishes. This media is suitable for printing high-definition and vibrant photographic images, wall graphics, backdrops, murals, or special graphic wraps. Most common surface finishes are matte, luster, or textured.
Display Equipment & Mounting Options
Acrylic frameless poster displays are the ultimate, professional display solution for posters, prints, photos and fine art reproductions. The prints are simply inserted between two pieces of acrylic. The display panels are mounted to walls using our panel standoffs or edge-grip support system that allows for graphics and prints to be easily updated later. 
Create professionally finished graphic presentations, decors, backdrops and trade show displays using our quality, high-end cable/rod suspension systems. The cable/rod fittings provide sleek, highly functional display solutions that are easy to assemble and update as more changes are needed.
Attractive, versatile and easy-to-use poster frames made of lightweight aluminum profiles. They are durable, reusable and can be side/top or front loaded and hold various substrate. Frames can be mounted to walls, windows, ceilings, or floor-standing. Available in a range of styles and standard sizes or custom cut to your exact specifications.
We offer framing and mounting services for your posters, fine art prints and digital photographs to ensure preservation and longevity. Depending on the intent of use and duration of your display you may choose from a few available substrates.